Shedquarters are your local suppliers and builders of quality, robust buildings, providing North Queensland's most reliable product with a hassle-free and positive purchasing experience.
---
Who we are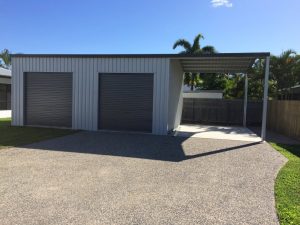 Owned and operated for 10 years by Matt and Sue Knight, Shedquarters is a local family business.
Matt is a qualified carpenter and builder with over 30 years' experience in the Townsville building industry. He is personally involved in supervising all of our projects, and is directly accessible throughout the build process, ready to answer client questions and keeping you updated as construction progresses. With his technical expertise and uncompromising approach, Matt ensures that all our buildings are constructed to the highest industry standards.
After working in administration and middle management positions both in the private and public sectors, Sue now manages our office, taking care of all the paperwork and building approval processes, ensuring that we meet all of our licencing, contractual and legislative requirements
Our Approach to Design
Your shed is a significant, long term investment and our skill lies in the designing the most cost-effective option for your site, while maximising the buildings structural resilience and strength.
All our buildings are engineered to meet North Queensland's demanding cyclonic conditions and individually designed to suit site specifics. We don't cut corners – our uncompromising approach to design, product specification and workmanship results in tougher, more durable buildings.
Customer Service
We make buying and building a shed easy. Because Matt is personally involved in supervising every project, he works on an individual level with each customer, ensuring that the entire process – from initial planning and purchase right through until completion – runs smoothly and without hassle.
We work hard to exceed every customers' expectations. In fact, we want our clients to recommend us to family and friends, so you can count on getting our best service. In our view, good service entails not only working to satisfy customers, but caring about how we interact with all of our stakeholders, before, during and after getting to know them.
Our Role
We are passionate about working with informed clients.  The more factual information we can provide, the more our clients understand their choices and the better the outcomes. From the initial planning stages, we'll seek to understand your needs, and work with you to ensure the end product is fit-for-purpose and your expectations are met. In our experience the best way to achieve this is to ensure you have accurate and substantiated information on which to base your decisions.
Invest in the Best
While many shed companies concentrate primarily on product supply, our understanding of the construction process means that we take a much broader approach to the way we do business.  We strongly believe that product quality, construction expertise, sound business philosophies and a focus on consumer protection, professionalism and good old-fashioned service is what is required to be a preferred supplier. This is what we aim for across every aspect of our business.
---